I jumped in the car this morning to take a drive with my mate Alberto to the NSW Riverina town of Tumut. We stopped at Yass and Gundagai to make some photos before arriving in Tumut just after midday. We had arranged a day-trip to hang out and do some photography, and it didn't disappoint.
First we met Mick and Jade at Timmers Pies & Cakes in Yass, who were really happy that we were out photographing. Both of them were kind enough to pose for our cameras, as well as give us a tip on the best coffee in town.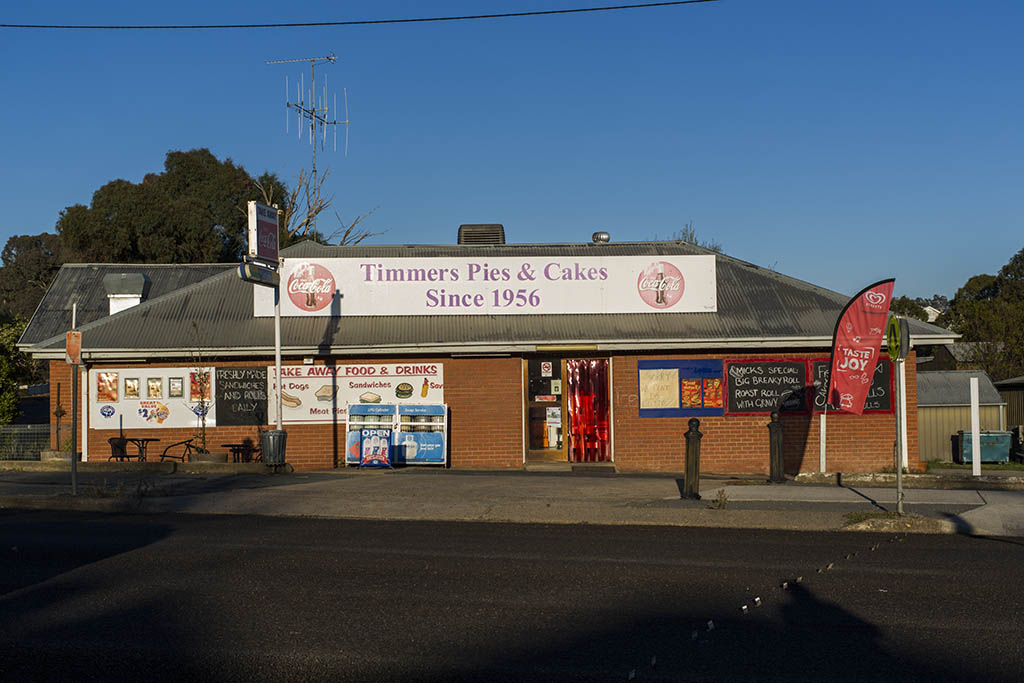 We didn't get far after Timmers, stopping just down the road to photograph an art deco mechanics shop and a building with an old Wollies logo still on it.
After a bit of highway driving we arrived in Gundagai. We walked the main street of Gundagai (Sheridan Street) and visited the Old Train Station on advice from a local fellow who runs the second-hand furniture shop. Gundagai is must visit town on the Hume between Melbourne and Canberra, way better than the highway truck stop.
Arriving in Tumut, an op-shop was out first stop, followed by a visit to the local Tumut museum. Alberto and I were given a guided tour and were astounded at the rich Chinese history of the area, which was news to both of us. Whilst looking at some wonderful photographs from the 1940's, a local man pointed to a young boy on horseback, proclaiming it was Teddy Doon.
'Teddy Doon? Who's Teddy Doon?' I enquired.
'Who's Teddy Doon!? Who's Teddy Doon!?', he was shocked beyond belief.
After a good history lesson, we hit up the Oriental Hotel for a burger and beer, before heading back to Canberra. Before leaving town, we saw something that you don't see everyday, a procession of Kenworth trucks, decorated in preparation for a wedding. The trucks were the wedding convoy.
When we returned to Canberra in the afternoon I switched on RN to hear Conversations with Richard Fidler, who was interviewing Leonard Janiszewski about his new book Greek Cafes & Milk Bars of Australia, and they mentioned the Niagara Café in Gundagai, with Leonard recounting a wonderful story when Australian Prime Minister John Curtin held a War Cabinet meeting in the café in 1942. Classic timing.